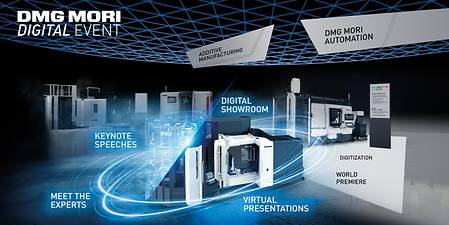 We cordially invite you to join us at the premiere of the DMG MORI DIGITAL EVENT on October 9, 2020 from 09:00 AM (MDT).
DMG MORI presents its trends and innovations, as well as products and solutions with over 20 virtual live presentations and a digital showroom with 17 high-tech machines and automation solutions as real-time 3D models. Register at digital-event.dmgmori.com.
Save your favorite presentations in advance via the calendar function – to ensure you don't miss any highlight on the day of the event.
You can schedule a virtual ONE-to-ONE meeting, prior or the day of, with your local area sales manager and other experts from DMG MORI.
We look forward to your visit.